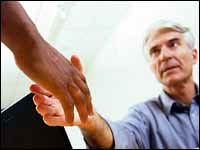 Our Mission
At Minuteman Press of Suwanee our mission is to win and retain clients by establishing a strong bond built on trust and mutual respect. We believe that clients look to us as a solutions provider and if we are to win their trust and respect we need to be a part of their winning proposition, as a part of their team and not just a "vendor". Our goal is to exceed our client's expectations by providing the highest quality product possible in a timely manner.
Company Culture
Our company culture is simple, we live our mission statement.
We want you to consider us a part of your team. We are dedicated to earning your confidence and respect with every project you entrust to us. Think of us as your project managers, designers, and production team. When you turn your project over to us, you can concentrate on what you do best, while leaving your print project to us. We will deliver a finished project of outstanding quality, on time, and at a competitive price.
Far from being just words on a page, the values reflected in our mission statement are the heart of our company. We truly live our mission statement, and we would love the opportunity to prove it to you. Don't take our word for it, click below to read what our clients have to say.